Visual artist. Born 13th April 1978 in Lučenec (Czechoslovakia). Study: ĽŠU Lučenec (Art School), visual art. 1992 – 1996 Secondary Pedagogical School in Lučenec. 1996 – 2001 FHV UMB in Banská Bystrica (Faculty of Humanities at Matej Bel University), Department of Fine Arts with prof. Stanislav Balko and Štefan Balázs PhD. Since 2003 a freelance artist. 2012 Visiting Artist in Saigon, Phan Thiet, Vung Tao, Vietnam. 2014 – 2017 visiting artist with two old masters of calligraphy and original Chinese painting in Shanghai, China. 2017 – 2018 a visit to collect inspiration for the exhibition called War and Peace in Harbin (Museum 731 Laboratory), Beijing (World War II. Museum), Nanjing (Nanjing Museum of the site of Lijixiang Comfort Stations, Museum of Aviation, The Memorial Hall of the Victims in Nanjing Massacre by Japanese Invaders).
CHARACTERISTICS OF WORK
historical point of view, his current work belongs to the significant international avant-garde stream of neosurrealism where the dominant technique is decal. In pictures, he connects the living with the non-living, the animal with the human, the rational with the irrational, the beautiful with the ugly. His works thus reflect our time and space which we live in. Images come from subconsciousness, colours are shining, combined somewhere and somewhere the result is monochrome.
CRITICS
His work is guaranteed by significant international critics: President of the European Union of Arts – Prof. Dr. Miroslav Klivar (Prague), Dr. Gianni Ianuale – President of the association U.A.O.C. (Naples), Dr. Miroslav Kleberz de Rethe (London), Dr. Sara Sisit (London), Dr. Jean Amiot (Paris), Dr. Joel Garcia (chief critic of contemporary art in Monaco and Paris), Dr. Dominique Chapelle – owner of diploma from Ecole Louvre Paris (Paris), Prof. PhDr. Ludovit Petransky (Bratislava).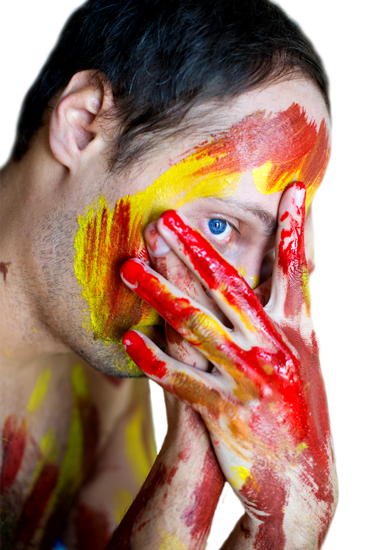 Laureates of this award are also:
Blanka Matragi (Lebanon), Thuraya Al-Baqsami (Kuweit),
Frank Kortan (Germany), Gagik Manoukian (Armenia),
Victor Safonkin (Russia), Maria Luisa Grimani (Italy).
Laureates of this award are also: Steven Spielberg (USA), Miloš Forman (USA), Arnost Lustig (USA), Ewald Osers (Great Britain), Norman Mailer (USA), Erella Hadar (Israel), Frank Maisler (Israel), Maya Plisetskaya (Russia), Alexandr Solzhenitsyn (Russia), …
Exhibitions
Domestic and foreign exibitions
The already had 20 exhibitions in different towns in Slovakia: Bratislava, Piešťany, Banská Bystrica, Zvolen, Trebišov, Detva, Snina, Lučenec.
In 2004 he had exhibition in Slovak National Gallery, Zvolen-Castle, Slovakia.
Ehibitions in foreign countries: Karlovy Vary, Ostrava, Prague (Czech Republic); Munchen, Berlin (Germany); Maastricht (NL); Monaco (Monaco); Paris (France); Las Vegas (USA); Dubai (UAE).
You can also find Šuleks pictures i private collections: Slovakia, Czech Republic, Italy, USA, Germany, Russia, Monaco, France, Kuweit, Tunis.
2009 – Lucrative exhibition in V.I.P. Wembley (football stadium in London)
MULTIPLE EXHIBITIONS IN SHANGHAI, NINGBO, NANJING
2013 – Collective exhibition at the Museum of Ladislav Hudec. 2014 – solo exhibition of 60 paintings at Hongqiao Contemporary Art Museum Shanghai. This exhibition was ranked by the public among top 10 exhibitions in May, together with exhibitions by Rubens, Van Dyck, Monet, Yayoi Kusama…. 2014 – Collective exhibition in Ningbo Museum of Art – Exhibition of Central and Eastern Europe Artists. 2014 – solo exhibition at Shanghai Art Center. 2014 – Solo exhibition at Shanghai Jia Juan Hai Art Center. 2016 – Solo exhibition at Shanghai Jinart Space Gallery (Tongreen Road).
27 May 2018 – 27 June 2018 – a solo exhibition of paintings called The War and Peace in The Memorial Hall of the Victims in Nanjing Massacre by Japanese Invaders.
The whole collection of 25 paintings was donated by Jaro Sulek to the museum in homage to the memory of all victims of the Nanking Massacre. Pictures of the exhibition were painted by the Jaro Sulek in the Nanjing Museum of the site of Lijixiang Comfort Stations. This exhibition was visited by more than 500 000 people within one month, which proves that this event will never be forgotten.
5 November 2018, Shanghai, China – On his visit to the People' s Republic of China, Czech president Miloš Zeman donated a picture called Eternal China by master Jaro Šulek to Chinese president Xi Jinping
OTHER EXHIBITIONS FROM 2004 to 2014
Gallery Na Ochozu, Charlie gallery – Karlovy Vary, Chagall gallery in Ostrava, Slovak Institut – Prague, Vienna, Berlin, London, Paris, Rome, Brussels, Warsaw, Panev gallery Veliko Turnovo, Bulgaria, Monaco Modern Art Museum – Monte Carlo (Monaco), Gamart gallery Paris, City gallery Grottammare, Gallery Villa Baruchio Porto Sant'Elpidio (Italy), Dalí Universe Gallery London, Rahmes Shukla gallery Dubai, Dubai Festival City Gallery…
FESTIVALS AND ART FAIRS
2005 – Art and Fashion Festival Dubai – representation of European fine art
2014 – Shanghai Art Fair – the most important art fair in Asia. 154 leading art galleries from the whole world were present. In addition to contemporary art there were exhibited also works of the old masters such as Rembrandt, Renoir, Monet, Degas, Chagall, Dalí, Picasso.
.
PAINTINGS IN PRIVATE COLLECTIONS (selection)
Albert Prince (Monaco), the family of sheikh Al Zayed – the former president of the United Arab Emirates (Abu Dhabi), a collection of cultural centre and foundation of Lord Eastleigh (Monaco, Paris), a collection of president of the European Union of Arts prof. Dr. Miroslav Klivar (Prague), collection of prof. William Plevza (Bratislava), Cornelius Rohman – art collector (Amsterdam), Cultural Center of Madame Christiane Peugeot (Paris), Vikas Patel – art collector (Mumbai), Xi Jinping – Chinese president.
MEMBERSHIP
The European Circle of Franz Kafka, Prague – also a honorary member (Czech Republic), Monaco Modern Art Museum, European Art Group, Paris (France), International Art Club Laussanne (Switzerland), Unione Artisti Operatori Culturali, Morigliano, Naples (Italy).
EXHIBITIONS IN SLOVAKIA
Bratislava, Piešťany, Banská Bystrica, Trebišov, Detva, Zvolen, Lučenec, Košice, Snina, Slovak National Gallery – Zvolen Castle
FOREIGN EXHIBITIONS
2009 – his accompanying exhibition opened Czech and Slovak National House in London. 2009 – exhibited his paintings at the VIP premises of the famous Wembley football stadium – London. It was the first ever exhibition of paintings in these premises with the participation of Princess Catherine of Wales, the British ambassador Michael Roberts, Michael Knighton – former owner of Manchester United club, Marcus Much – Mucha Foundation CEO, Dr. Sara Sisit – art historian from Dalí Universe Gallery, Antonia Widdowson – major designer of GUCCI fashion house, representatives of BARCLAYS bank and other distinguished guests. All proceeds from the auction of paintings went to the MANIFESTO Foundation – foundation to support young artistic talents. 2010 – official presentation of Slovakia by paintings in V.I.P. premises of the Slovak pavilion at the world exhibition WORLD EXPO in Shanghai (China). 2012 – exhibition of paintings in the Slovak Olympic House in the building of Institute of Directors in Pall Mall Street, London during the summer Olympic Games in London.
CD, BOOKS, DICTIONARIES, MAGAZINES, PARTICIPATION, NEWSPAPER, TV, INTERNET (selection)
CD: 2003 – his paintings were included with other giants of Slovak visual art such as Master Pavol of Levoča, M. Benka, Ľ. Fulla, M. Galanda, Bazovský … to a teaching aid for teaching art and aesthetic education for Slovak primary and secondary schools. 2004 – his paintings were included in ARTWORKS FROM SLOVAKIA – CD designed to promote Slovak visual art for Slovak parliament, embassies, consulates, cultural institutes operating outside Slovakia. 2005 – CD MEDEIA – Košice State Theatre. 2005 – EMIRATES TODAY, GULF NEWS, ELKHALEI NEWS (Dubai, UAE) Books: 2009 – WHO IS WHO in the Slovak Republic, Hübners publisher, Switzerland – Biographical Encyclopedia of Important Men and Women of Slovakia, 2017 – OXFORD ENCYCLOPEDIA – Encyclopedia of Personalities in the Czech and Slovak Republic, Dictionaries: 2006 – GLOSSARY OF CZECH AND SLOVAK VISUAL ARTISTS 1950 – 2006, Fine Art Centre Chagall, Ostrava. NEWS: TOPART Magazine, Brussels. Participation: Included in the network of The World Leader in Art. 2014 – xinmin.cn 2016 – SHANGHAI MORNING POST. 2018 – ZAKER Newspaper (Nanjing), TV NBS.cn, JSTV.com, mp.weixin.qq.com, jnews.xhby.net.